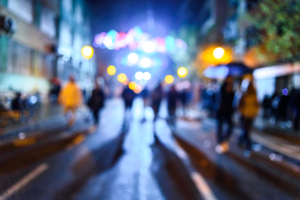 While for some the clocks going back means an extra hour in bed, for many it can mean additional hazards when working in the dark. In turn, this unfortunately sees the recorded number of work-related incidents rise between October and March each year.
However, it's not just the dark alone that causes an increase in accidents. The risk landscape is also impacted by changing weather conditions. And the combination of darker nights, less sunshine and dropping temperatures has been proven to impact our mental health, and as a result each year sees a rise in simple 'human error' mistakes being made too.
As the old adage says, being prepared prevents poor performance. To help prevent potential incidents, we have pulled together our top tips to prioritise your employees' health, wellbeing and safety during the darker nights…
One: Seasonal Affective Disorder
Thanks to fewer daylight hours there is a potential loss of vitamin D which can result in low mood, a lack of energy and feelings of irritability. Keep the lines of communication open and go for a walk at lunch to soak up as much sunlight as possible.
Two: Watch what you eat
Ensure you get your day off on the right foot with a healthy breakfast. Food tells your body it is the start of the day. To keep energy at an optimum, each meal should be a balanced mix of 45-65% Carbohydrates, 10-35% Protein and 20-35% Fat.
Three: Stop scrolling
Did you know a 'blue light' is emitted from screens which interferes with our body's production of melatonin? This hormone controls our sleep/wake cycle. If we stay up watching computers or mobiles too late, our body doesn't recognise it's bedtime.
Four: Good Visibility
Are you providing adequate lighting on site? Are pathways lit to and from the car parks as well as on pavements and walk ways? Is it safe? Hi-vis clothing should be a mandatory requirement where necessary.
Five: Weather conditions
Invite a team member to be in charge of sharing the weather forecast. If there are high winds or flooding, is it safe for people to be working? Make sure they are wearing sensible clothing such as boots with fresh grip. Where necessary, provide locatable de-icing salt packs.
Six: Journey Management
While adverse weather  is one hazard, you should also make sure your teams bear in mind road types being encountered, and journey timings ie. rush hour or school pick up. And finally, create a back up plan with alternative routes should an issue arise. For journeys longer than two hours, agree before setting off when and when you'll take 15 minute breaks.
Seven: Vehicle Safety
Are your vehicles being regularly serviced? Provide a checklist and ask employees about any odd sounding squeaks or noises that perhaps they have ignored up until now.
Don't forget…
Be pro-active and not reactive by helping your team to confront the upcoming changes with confidence, and in advance, by addressing these issues now.
And Chrysalis Culture Hub has a communications toolkit entirely devoted to Road Safety Week, taking place next month. For a free Chrysalis demo, contact us.
…and don't forget to change your clocks on Sunday 31st October at 2am.