This is a version of an article featured in SHP last week…
To mark this week being Men's Health Week, we're joined by health, safety and wellbeing experts working within the male-dominated construction sector – an area where mental health issues have become hard to ignore.
In conversation:
Tell us about the mental health situation in the construction sector.
Mark: Construction has always been a high-risk sector but the mental health challenges have only been acknowledged more recently. Suicide rates amongst construction workers are more than three times higher than the national average.
The National Building Specification say that stress, anxiety, and depression account for one-fifth of work-related illnesses, resulting in 70 million days off sick per year. This is at an estimated annual cost of £70bn-£100bn. And a report by the Chartered Institute of Building found that 56% of construction professionals work for organisations with no workplace mental health policies.
Why is the construction industry in this position?
Sarah: Last December, Mates in Mind and the Institute of Employment Studies (IES) published our early findings from a major study into the mental health of self-employed construction workers and those working in small firms.
The initial results showed that intense workloads, financial problems, poor work-life balance and COVID-19 pressures on the supply of materials are combining to significantly raise stress and anxiety levels.
Duncan: It definitely seems that, as a country, we have suffered collectively from the uncertainties and lifestyle changes brought about by the COVID-19 pandemic. Even now, as we move out of the pandemic, many are reassessing their life priorities.
Mark: On top of this, surging fuel and energy costs have hit the sector and all costs have increased further due to Russia's invasion of Ukraine.
In some cases, construction projects have been set back by the rising cost of borrowing. There's a lot of financial pressures on the sector and there's no avoiding the talk of a possible recession.
Also, in larger firms it's common for only around 10% of the workforce to be employees and the rest are transient. This has always been the case in construction but the pandemic has definitely accelerated this trend.
The supply chain has become more fragmented and disjointed, and clients have told us their people feel less able to speak up. People are moved from one site to another and they have to build relationships again.
How do these issues manifest in workers' lives?
Mark: There's research showing that men and women experience mental health issues differently. Women are more likely to experience internalised symptoms such as depression and anxiety and, while men experience these too, they're also more likely to have external symptoms such as aggression and violent outbursts, substance abuse and addiction, antisocial or oppositional defiant disorder, and attention deficit hyperactivity disorder (ADHD).
Sarah: Because of the stigma around talking about mental health, men are less likely to show any visible behaviour changes.
However, they may seem more distant than usual, not able to sleep or take longer than normal to respond to messages. They might not want to engage with people or hobbies they've previously enjoyed.
They may not seem like their usual self – possibly snapping or shouting – or there might be new, unexplained patterns of lateness or absences.
Having said this, it's also possible there may be no signs at all that they're struggling, and instead, they firmly internalise any symptoms or use other coping mechanisms such as alcohol or non-prescription drugs.
Mark: The absences obviously have a knock-on effect on productivity and the stress spirals.
What stops men from getting support?
Sarah: Men find it hard talking about mental health and, with the workforce being so male-dominated, our early survey findings suggest that almost a third are now living with severe levels of anxiety each day.
As part of the research, IES spoke to many often hard-to-reach groups of workers from a range of trades including bricklayers, groundworkers and plasterers. They said it's the continuing stigma of mental illness that stops them from discussing their mental health beyond close friends or family members – the fear of being perceived as weak for admitting they're struggling.
Our research shows men are more likely to seek support from a partner or friend than verbalise their worries to a line manager as they're concerned it may have an impact on their career.
They're also less likely to visit their GP so it's really important for friends, colleagues and line managers to spot the signs and feel confident in starting the conversation.
Maria: At ENWL our workforce demographic is 75% male and we were very aware that research had implied that men tend to not talk as much about their feelings due to the stigma associated with mental health. In addition, we have 50% of our workforce who are field-based and logistically difficult to reach.
What can construction leaders do to improve their people's mental health?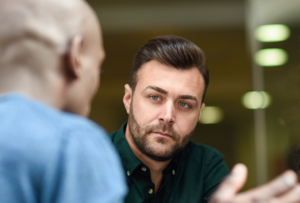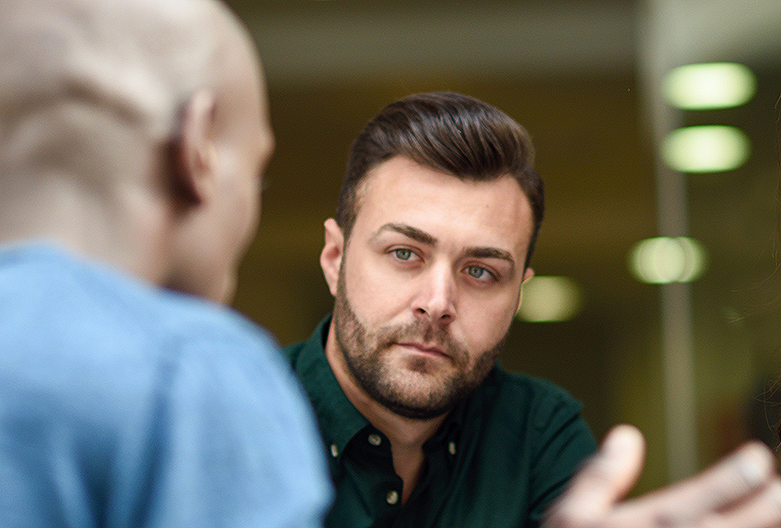 Duncan: For people to feel more comfortable addressing their mental health issues, one of the most powerful motivators is having role models. If leaders and colleagues can share their own experiences, this can lessen the perceived stigma and encourage others to talk about their challenges.
At VolkerStevin we run a number of campaigns promoting the support available, and have made our EAP (Employee Assistance Programme) accessible to all including our supply chain. We think this could account for some of the increase we've experienced in reporting of mental health issues with more people feeling they can reach out for help.
Mark: First and foremost, leaders need to recognise there are issues and also that they're part of the solution.
There's research on psychological safety and how it's leaders' responsibility to create the right culture where people feel safe speaking up. To make this happen, leaders need to acknowledge their own fallibility and create opportunities for people to open up to each other.
Training managers to have effective wellbeing conversations can also really help and there are plenty of resources to help you. At Tribe, we work with clients to help leaders develop the right mindset to drive change and create stronger wellbeing outcomes.
Maria: At ENWL we're normalising conversations about mental health by constantly featuring it on the agenda. Through our communications strategy, we share a wealth of regular awareness tools, hints and tips, and supporting documents and webinars for all colleagues.
We have Executive and Senior Leadership commitment, through regular steering group meetings and working parties. Mates in Mind produced an initial assessment with recommendations which formed the basis of our two-year project plan. This allowed a completely independent view of where we were and how to shape the direction and understand what we needed to focus on.
Sarah: From spotting the signs to learning how to reduce stress, we have a wealth of free materials on the Mates in Mind website to support leaders. And by becoming a Mates in Mind supporter, you will have access to a range of resources, training, support and assessments designed to help your organisation implement a workplace mental health programme. It's about creating a culture of prevention and support to prevent anyone from reaching a mental health crisis point.
Tribe works with many clients in the construction industry and other high-risk sectors to create better wellbeing outcomes. Get in touch to discuss how we can help.