To say effective conversations make or break safety culture change is an understatement. It's self-evident to people like us; more talk means less accidents and better performance.
It's why you and I are out on-site every day, engaging with staff on safety, and spurring them on with positive reinforcement.
And I bet other smart leaders in your organisation know this too. I also bet you had them trained specifically on how to hold effective safety conversations. Perhaps they were lucky enough to attend one of Tribe's SUSA workshops?
In fact, if you press these people they'll even agree, often passionately, that conversations are powerful and transformative.
So why aren't they having more of them? Why does enthusiasm dwindle so quickly?
I see this all too often: only six months after training, clients 'just seem to be struggling a bit' with keeping up momentum. 'Well it's difficult' they say, 'I just don't get the chance… I so rarely see people doing anything that's unsafe'.
Underlying cultural forces are at work here, so let's work through the obstacles, with advice to refocus your staff on better quality conversations about safety.
"I don't spot enough bad behaviour"
My jaw drops when I hear this one. You don't need bad behaviour to spark up a conversation! Done right, this whole exercise is positive and proactive; we're just talking to people about their jobs.
Ask someone what's going well and what isn't, regardless of blame. Praise, challenge, observe and try to understand what their world is like.
"I don't know where to start"
Like many things in life, getting started is often the greatest hurdle – overcoming the reluctance and uncertainty around changing people's behaviour.
The solution begins with a smooth introduction – getting the conversation off to a good start by finding common ground. Lay your cards on the table, be receptive and ask open questions.
"I work in an office, none of this really applies to me"
Decisions made in offices have far-reaching effects beyond the keyboard. Slow progress on overtime wages in accounts means someone down the line gets distracted by bills they can't pay. So safety absolutely applies to office workers.
To tackle this one, it pays to involve this office worker in a dialogue that explores how their actions have a butterfly effect on their colleagues on the shop floor. Show how they're empowered to influence, in a positive way.
"No one else seems to bother, I don't want to be the odd one out"
Conversation is a social tool, so in this case you've yet to reach a tipping point where it's the norm to speak up. Until then, people might feel awkward or lack courage or confidence to approach each other.
The solution lies in bold leadership. Managers and supervisors need to get out there and blaze a trail for honest, open, friendly discussion. It's leaders who set a precedent, a shining example for everyone else to follow.
"But I don't really understand their jobs, I wouldn't know what to ask"
Brilliant! This puts whoever sparks up a conversation in a very strong position because they've got everything to gain.
A good conversationalist will be naturally inquisitive, curious and open to understanding the other person's job. Ask what gets in their way, and how together, you might make their job better and easier – who doesn't want to talk about that?
Sound familiar? Don't worry, you aren't alone
These objections are far more common than you think, we hear them even in large multinational companies – the kind Tribe work with every day.
When you find yourself in this situation, all people really need is a nudge in the right direction. A gentle reminder of why they're having these conversations in the first place, what a good conversation looks like, and how to get off on the right footing. Playbooks are a cost-effective way to achieve this, as are hosted refresher workshops and coached floor-walks if budget permits.
Whichever way you go about this, much counts in our favour when it comes to rekindling appetite for conversations, so don't despair. For a start, everyone can get behind working safely. Everyone loves talking about what they know – their job, and everyone enjoys feeling valued.
With reasons like these refreshed in the minds of your leaders, you'll soon be pushing quality conversation rates back to record new highs.
INSPIRE BETTER SAFETY CONVERSATIONS
Rediscover the power of safety conversations with the new augmented reality edition of our renowned Playbook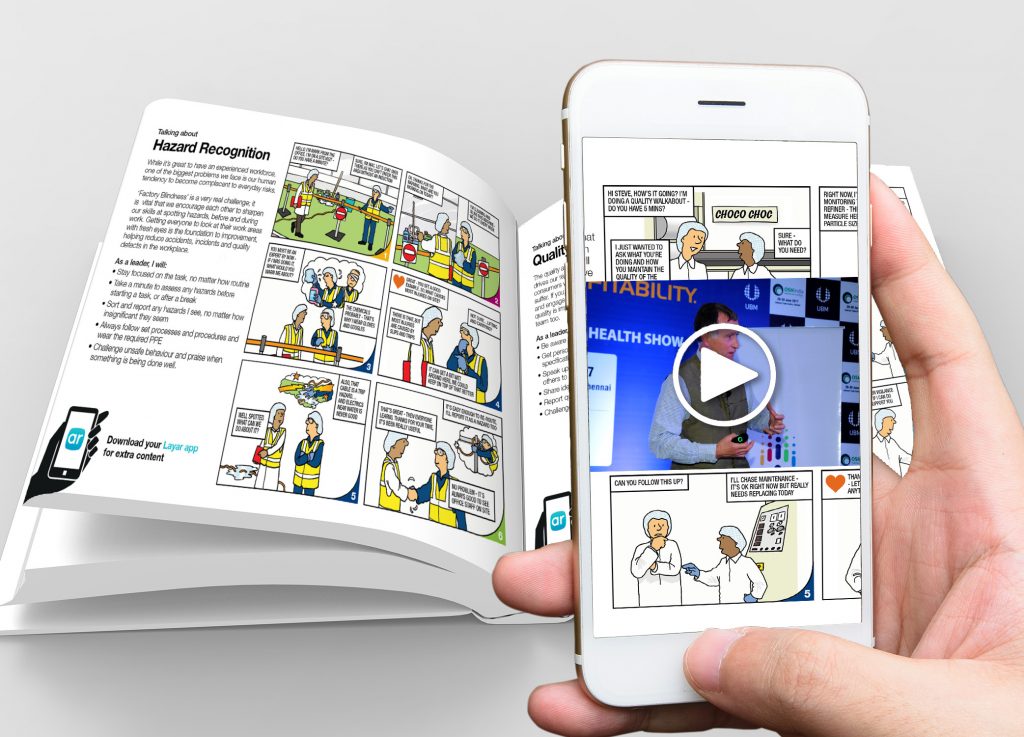 Packed full of handy reminders, visual prompts and contextual advice, the illustrated Playbook was pioneered at world-class organisations, and clearly demonstrates what good quality conversations look like.
It includes a step-by-step conversation framework, and your choice of realistic cartoon scenarios – all professionally branded with your company logo.​
Contains bite-sized ideas and tips for your leaders
Available as a printed book and online eLearning tool
Includes pop-up augmented reality (AR) videos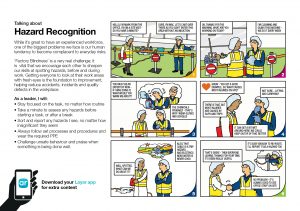 This Playbook puts learning back onto the shop floor, and quickly engages your staff right where they work. Simply point the free smartphone app at the Playbook to launch pop-up videos with advice from Tribe's experts.
Call Rosie Hill on (0)1494 782444 or email rosie.hill@tribecc.com for priority access.