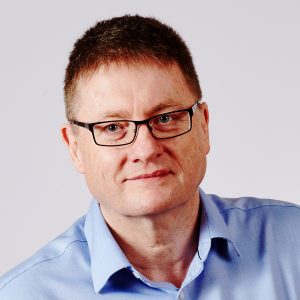 Colin Hewson is a Lead Consultant at Tribe Culture Change and has worked with many NHS Trusts over the past ten years. Here, he shares his insights and thoughts on its organisational culture.
First and foremost, the NHS is full of fantastic individuals and we are truly lucky to have it in this country. It's been there for me at my hour of need but, unfortunately, it does have a history of blame culture.
This has a serious impact on individuals within the organisation. In the work I do as a Safety Culture Consultant, I've had the privilege of speaking with many NHS professionals. Blame is often raised as an issue and people question what might happen if they speak up about something that's happened. There's an element of "If I put my hand up and raise a concern, how will it impact my career?"
This breeds fear and destroys trust. When something 'goes wrong' it seems there's almost a view that the last person to have touched the patient is at fault, and when the staff member is reprimanded, they're told, "Do better, or else!"
Changing NHS culture
Within culture change circles, we talk about working towards a 'just and fair culture'.
Well-developed just and fair safety cultures will feature fair treatment of individuals in the event of incidents, recognition systems for safe behaviour and people understand they can be held accountable for their actions.
NHS Trusts are certainly moving towards this but it won't happen overnight.
Within just and fair culture, there are different approaches:
Retributive culture
Retributive culture is a current approach outside NHS models. It's that sense of, "You've done something wrong. We better look at the level of punishment". It may be a quiet word or "Don't come back tomorrow". People talk about a quasi-legal environment when they get into these scenarios.
Restorative culture
Restorative culture is a fairly new approach to just and fair culture and the NHS is leaning more towards this. In the retributive approach, you pay for your actions. But in the restorative approach, you share your account of what happened and the reasons why it happened are explored. The focus is on learning and fixing the systems and organisational issues instead of blaming individuals. You meet hurt with healing.
I feel that the retributive approach doesn't acknowledge the impact on the second victim – the member of staff. No one ever sets out to harm a patient but incidents happen. The restorative approach allows them to tell their story and rebuild trust within their team and across the organisation.
However, there's still accountability within a restorative culture. If intended rule breaking takes place, or there's reckless behaviour or illegality, then you're going to be held accountable in a different way.
Having said this, the NHS actually stands apart from other organisations. I remember once talking to a Trust about adopting a similar just culture model to one used in the aviation industry. I hit a brick wall around intended rule breaking. I was told it wasn't possible to copy that model because within healthcare sometimes the rules don't apply in order to save someone's life.
In desperate life or death situations, sometimes clinicians just have to try something. They justifiably apply their clinical knowledge.
Moving forward
Certainly, changes are needed to move forward from where some NHS Trusts currently find themselves.
People across all staffing grades need to be treated in a less hierarchical way and staff should feel supported rather than investigated.
There's also a need for the language used across the whole of the NHS to shift – it currently sounds almost legal to any outsider – and for senior managers to speak to their staff with greater empathy and kindness.
To shift this blame culture, there needs to be internal recognition that we are all fallible and sometimes we make mistakes. What's fundamental is that Trusts learn from these mistakes to ensure they don't happen again.
It's early days for the NHS. Enlightened Trusts are moving towards this restorative way of thinking and I hope, through our work with many NHS Trusts, we can continue to support them on this journey.
About Colin Hewson
Lead Consultant
Colin has spent more than 20 years in senior roles within local government and leisure; and will soon be celebrating 20 years as a culture change consultant. Colin is always reading and learning and is influenced by the work of Sydney Dekker, Erik Hollnagel and the Safety Differently movement. 
Specialisms: Human Factors, Just and Fair/Restorative Culture, Leadership and employee engagement. 
Industry experience: Aviation Engineering, Defence, Leisure, Manufacturing, NHS, Utilities