Life Saving Rules Vision,
branding and roll out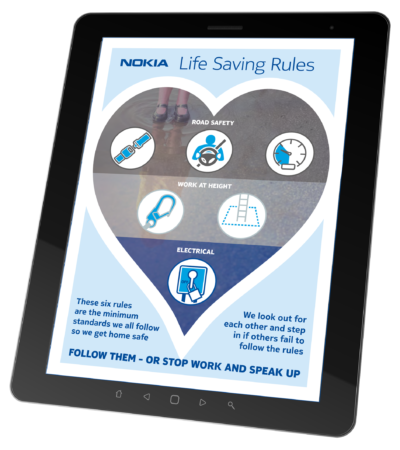 Tribe has a long history working with Nokia to help them bring their Safety, Health & Wellbeing messages alive for teams across their global business. Here are a few of the most recent projects.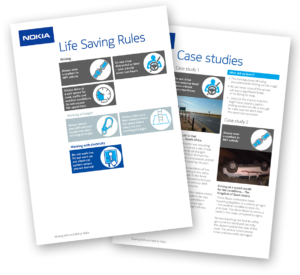 To help Nokia develop and roll out their Global Life Saving Rules programme, we worked with them to understand what were the key behaviours that lead to the most common serious incidents across the business.
Simplicity was vital with so many different languages being spoken across the organisation and differing levels of education. We were able to pinpoint just six rules that, if not followed, would eliminate 80% of serious and fatal incidents.
A full program was developed that was anchored around a clear infographic, this was rolled out using a range of communication vehicles including cascade messaging session, manager's guides, employee 'z-card' pocket guides and an interactive app for supervisors to facilitate consistent pre start talks, training and onboarding.
Work at height is a key risk at Nokia. To highlight the personal impact of serious incidents on those on site and those that manage the teams, we recreated a serious incident using actors to draw out the key learnings and make an impact on teams at both a rational and emotional level. This is now used as part of numerous training programs in Nokia and within the supplier base.
Making Tomorrow Safer e-learning programme
This interactive e-learning module is designed to help people identify and understand the key safety risks at Nokia and apply the Life Saving Rules to minimise these risks. It gives delegates the chance to learn from real life experiences of incidents at Nokia. The course was translated into 11 languages and, to date, has now been completed by over 200,000 people, Nokia employees and partners.
Excellence on repeat training
Nokia recognises its teams every year for excellence via its global quality awards. We were invited to run a deep dive into the winning teams – with the objective to discover the golden nuggets that made the difference, and share the learning with other teams.
We took Nokia's robust procedures for accident investigation and repurposed them to investigate excellence with the same rigour. We publicised the learnings and trained the safety team to identify great examples of safety across Nokia and use the tools to investigate excellence.