Changing Safety Culture
in The Workplace
What is Safety Culture Change?
Simply put, the culture of any organisation is 'the way we do things around here' and the safety culture dictates the behaviours and attitudes that are acceptable in any given organisation.
Determining your current safety culture
The quickest and most effective way of establishing the 'health' of the safety culture is to carry out a formal Safety Culture Assessment preferably involving a questionnaire and focus groups targeting all levels of the organisation.
Why is safety culture needed?
The moral dimension
The moral imperative for having a strong safety culture is front and centre. It's simply unacceptable that people should have to risk death or injury just to make a living.
The legal dimension
The Corporate Manslaughter and Corporate Homicide Act 2007 allows and organisation to be prosecuted for safety failings resulting in the death of an individual.[1] However, under the Health & Safety at Work Act 1974 (HSWA) section 37(1) company directors, managers and officers can be personally prosecuted for offences committed by a corporate body if their involvement can be proven.
Poor safety and wellbeing can be expensive
According to the Health and Safety Executive (HSE), the total costs of workplace self-reported injuries and ill health in 2018/19 was £16.2 billion.[2] Ill health causes the biggest proportion of total costs at around 66% (£10.6 billion), with injury resulting in around 34% of total costs (£5.6 billion).
The HSE estimate that the cost to an employer of a workplace fatality is £99,700. The average cost to the employer of absence over seven days due to injury is £5,100, to the individual £19,000 and to society £30,100.[3]
These figures will vary significantly depending on rates of pay and so on. It should be reiterated that the extra sales required to compensate for these losses must be taken into account, even at a 10% margin, a seven-day absence injury could require £51k of sales to compensate for the loss.
Business benefits
Having a strong safety culture implies having an engaged workforce. It seems logical that if a workforce is engaged, at least with the organisation's safety aims, then other business benefits may well be achieved such as lower levels of equipment damage, better staff retention, higher product quality and increased productivity.
Achieving safety culture change
At Tribe, we measure culture maturity using the industry standard 'Parker Hudson' model. The model shows the stages in safety culture development ranging from the underdeveloped position (unfocused) to fully developed (learning).
Increasing maturity requires higher levels of employee engagement in safety improvement, more visible leadership commitment, greater levels of personal responsibility at all grades, and simply more care for the safety of colleagues.
To achieve safety culture change, involving people – particularly the workforce – is essential. Safety culture change will never be achieved through procedures and engineering alone.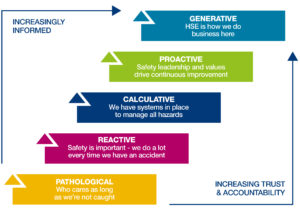 Let's talk, I have
a project
Get in touch with one of our Communications & Culture Change Consultants to talk about your current requirement.
I'd like a free
30 minutes
Take advantage of some free (no strings attached) advice with a 30 minute consultation with one of our Communications & Culture Change Consultants.
Sign up for
TribeVibe
Receive our twice monthly bulletin to access latest insight from our Communications & Culture Change Consultants and be the first to hear about free events & masterclasses.