On average, our clients see 30% fewer incidents after one year and 85% less in 3-5 years.
Our approach
We know that people are at the heart of any organisational change. If you want to change behaviour, you must first change people's attitudes, values and beliefs. 
Our unique three-stage approach lets you Activate your culture change programme with all the resources you need to get to the heart of your existing culture; Motivate your workforce with creative and engaging communications and Cultivate change for the long term with continuous improvement programmes.
We drive your organisation towards a 'tipping point' – that moment where behaviours start to line up. It's when individuals are working towards a common, inspiring purpose and people do the right thing because it's the right thing to do.
Underpinning this is our unique method of combining the science of culture change with the art of creative communication. We've used this to help major national and international companies influence better, safer and more proactive work cultures.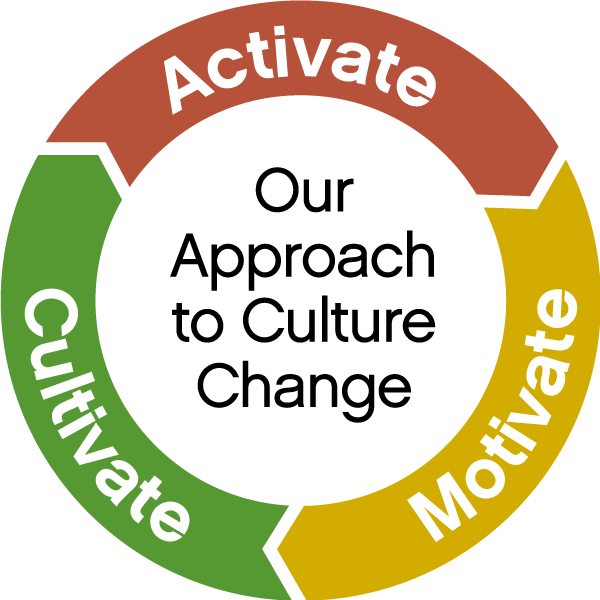 Activate
Why do people do what they do? Activate your culture change journey
Motivate
Kick start your journey with compelling creative and memorable campaigns
Cultivate
We drive continuous improvement to keep you on track towards achieving your vision
Clients who have benefited from our approach
Let's talk, I have
a project
Get in touch with one of our Communications & Culture Change Consultants to talk about your current requirement.
I'd like a free
30 minutes
Take advantage of some free (no strings attached) advice with a 30 minute consultation with one of our Communications & Culture Change Consultants.
Sign up for
TribeVibe
Receive our twice monthly bulletin to access latest insight from our Communications & Culture Change Consultants and be the first to hear about free events & masterclasses.