How to change workplace culture:
On average, our clients see 30% fewer incidents after one year and 85% less in 3-5 years.
There are many elements that go into creating a workplace culture but we know that people are at the heart of any organisational change. If you want to change behaviour, you must first change people's attitudes, values and beliefs.
Our Approach to Culture Change
Our unique three-stage approach lets you 'Activate' your culture change programme with all of the resources you need to get to the heart of your existing culture; 'Motivate' your workforce with creative and engaging communications and 'Cultivate' change for the long term with our continuous improvement programmes.
Underpinning this is our unique method of combining the science of culture change with the art of creative communication. Read our client stories to find out how.
And with our online consultancy platform, Chrysalis Culture Hub, organisations have access to a wealth of support, tools and materials to drive and take ownership of their culture change journey and sustain it in the long term.
Activate, Motivate, Cultivate ®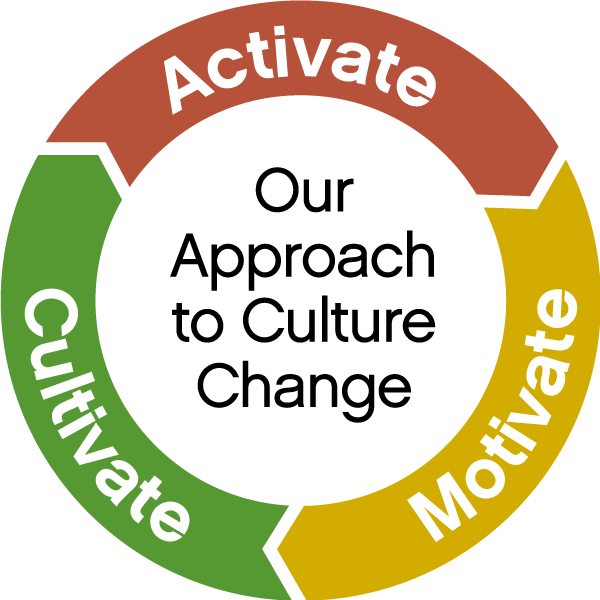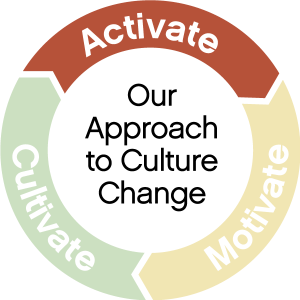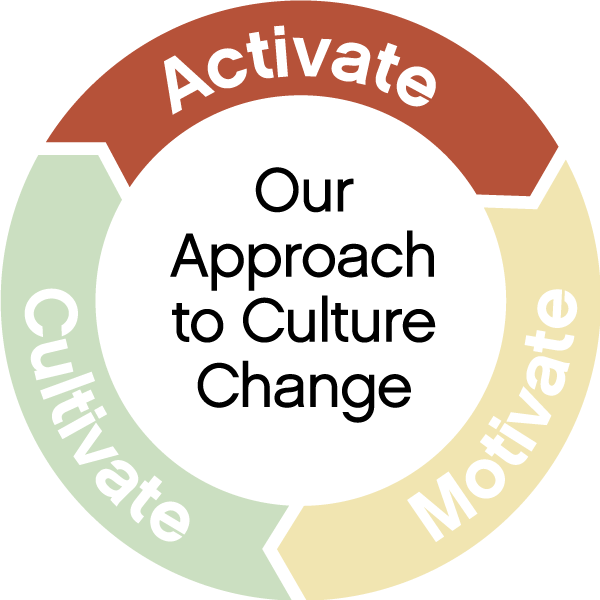 Before you start to think about changing the way people behave, you first need a clear view of where your culture is today.
We'll help you activate your culture change programme, bring your leaders on board and devise a strategy and long-term road map. You'll receive powerful messaging to launch your new vision and drive the behaviours required to realise a change in people's attitudes, values and beliefs.
Culture assessment
Assessing the existing workplace culture is vital. This involves a thorough analysis of your organisation's current attitudes, values and beliefs.
Questions and logistics planning
Focus groups
Survey promotion
Benchmarking
Senior leadership engagement
Getting your leaders' 100% buy-in to any change in culture is critical. Without leaders' continued re-enforcement, the change won't stick.
Inspirational storytelling programmes
Conversation skills coaching
Personal development plans
Just culture programmes
Strategy and planning
We work with your key stakeholders to agree the strategy, programme and create an engagement roadmap, with timelines for development and deployment.
Strategy documents
Communication road mapping
Chairing committees
Regular webinar support
Culture and vision messaging
We pull everything together with a set of creative, sticky messages to make the programme tangible and relevant, while providing clear and simple guidance, allowing everyone to get involved.
Programme identities
Work code infographics
Golden rules programmes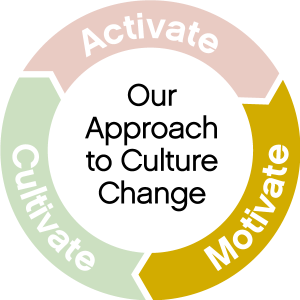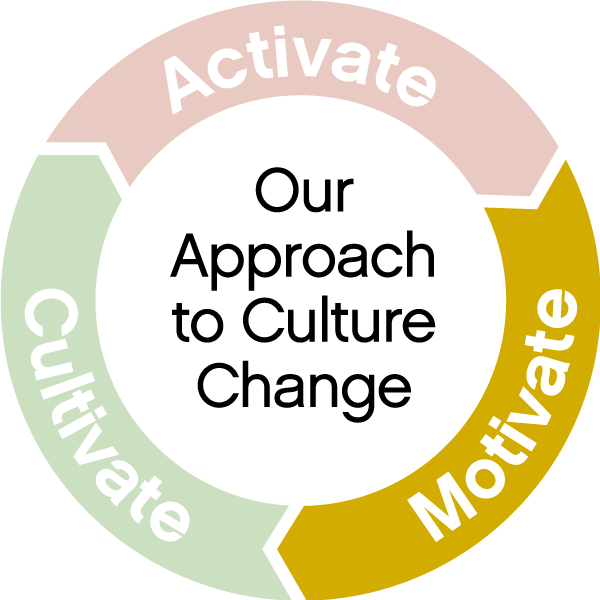 Drive the change at every level of your business, with a range of tools, technology and workshops – all based on insightful analysis of your company's culture.
Address any skills gaps by using our coaching, training and communications. We raise awareness with messages that really stick and help you nudge the behaviours that will make all the difference.
Leadership support
While your leaders may be committed to the programme and understand their important role, they're likely to need some support identifying the practical things they can do differently as an individual and as part of a team.
Influential storytelling
Leadership coaching plans
Immersive virtual reality workshop
Interactive workshops
Employee awareness
Once you've identified the behaviours to drive the difference at each level of the business, your communications and awareness must carefully nudge people, remind them and sell them the benefits.
Walk-through inductions
Awareness campaigns
Accident recreation
Hero storytelling
Supervisor briefing tools
Our bespoke training and coaching workshops improve Supervisors' and middle managers' presentation confidence and engagement skills.
Huddle cards
Near miss and bright ideas boards
Point of work nudge campaigns
Augmented reality
Interactive training
We believe training should be highly engaging, memorable and 'sticky' – whether sessions are delivered in-person or virtually. We bring people on a learning experience, including time for reflection and self-discovery.
E-learning programmes
Live and virtual events
Inspirational speakers
Bespoke film
Viral video campaigns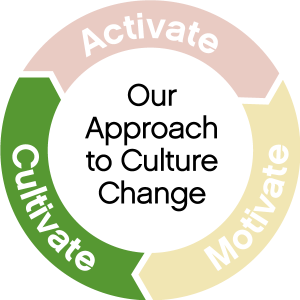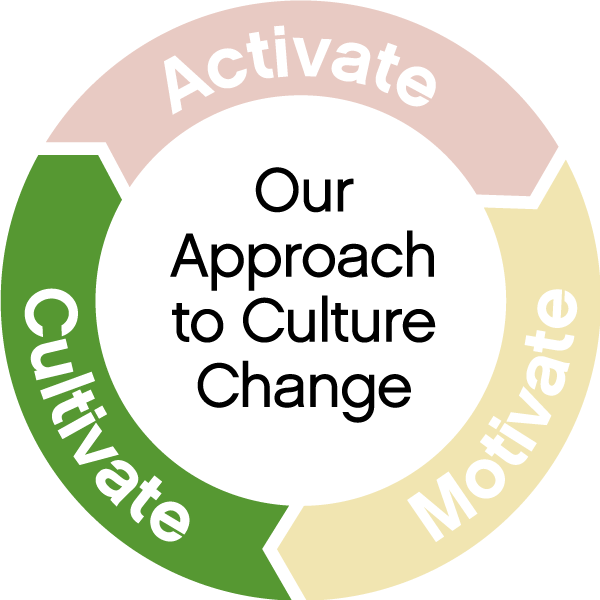 Cultivate the culture change for the long term, with measurable continuous improvement programmes.
We'll help you coach and support your senior leaders, managers and supervisors to have regular health, safety and wellbeing conversations and encourage communication between colleagues and teams, so it becomes a natural part of everyone's day.
Celebrate your success with Reward and Recognition schemes, as well as Champions programmes that use engaging tools and techniques to drive the 'tipping point', where your people do the right thing… because they know it's the right thing to do.
Conversation coaching
There's a real art to having effective conversations. When leaders get these right, they can drive trust, openness and accountability around health, safety and wellbeing.
Personal improvement plans
Advanced health, safety and wellbeing conversation coaching
Moderating conversations on peer to peer sharing platforms
Champion development
We help you identify individuals who will engage and inspire others. We train them to understand their role in driving the change and provide them with the soft skills to coach colleagues.
Huddle cards
Toolbox talks
Interactive presentation tools
360 film
Reward and recognition
When you recognise and reward great health, safety and wellbeing, you build a powerful source of good stories to be  shared and retold again and again.
Scheme branding, planning and development
Hero programmes
Filmed stories and engagement tools
Measuring success
Your culture assessment benchmark provides a concrete way to measure overall progress. We recommend you re-assess your culture after 18 months to update your plan to reflect the maturity stage you have reached.
E-learning programmes
Live and virtual events
Inspirational speakers
Bespoke film
Viral video campaigns
Clients who have benefited from our approach
Let's talk, I have
a project
Get in touch with one of our Communications & Culture Change Consultants to talk about your current requirement.
I'd like a free
30 minutes
Take advantage of some free (no strings attached) advice with a 30 minute consultation with one of our Communications & Culture Change Consultants.
Sign up for
TribeVibe
Receive our twice monthly bulletin to access latest insight from our Communications & Culture Change Consultants and be the first to hear about free events & masterclasses.